You start with a single piece of four blocks falling towards the bottom of the screen. By rotating the piece and moving it left and right, you choose a resting place for it.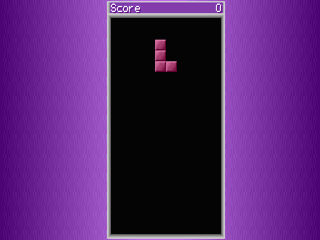 But don't think you're finished yet, because another piece is just waiting to come. And another. If you arrange the pieces such that you fill an entire row from left to right with blocks, the row is erased and all the rows above fall down. Once twenty rows are erased, you move on to the next level, where the pieces come even faster than before.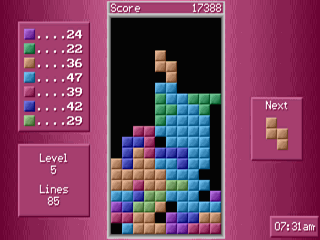 Within the pure simplicity of the basic Zentris for DOS screen lurk dozens of options. Customizable in every detail, including various brick styles, a statistics box, a clock, a helpful next piece window, a levels/lines display, support for American and European dates, grayscale monitors on laptops, keyboard redefinition, joystick calibration, sound toggle, backwards rotation ... the list of features goes on and on. The simple, elegant pull down menus organize the options just the way you'd want them.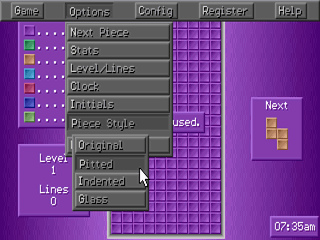 Zentris for DOS also keeps track of the top ten high scores, and has a completely amazing self-play mode that reaches levels challenging the skill of even the most advanced players.
The pieces can be controlled with your keyboard, mouse, or joystick.
Requires VGA, 384KB RAM.