A message box pops up saying that Zentris should be run from DOS.
Cause
When Zentris for DOS is run, it first detects the presence of Microsoft Windows and alerts the user by popping up a message box if Windows is detected, to prevent problems with the sound effects.
Workaround
Under Windows 95, very few systems are affected by this problem, so the message box may be safely ignored.
Under Windows 3.1, we recommend always exiting Windows before playing Zentris for DOS.
Resolution
If you are running Windows 95, you may either ignore the messages (and follow the instructions to continue), or permanently disable them by preventing Zentris for DOS from detecting Windows 95. To do this, right click on your Zentris for DOS icon and choose Properties. Go to the Program tab, as shown: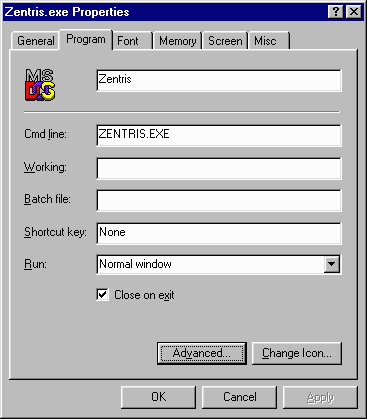 Click on the button labeled Advanced and you will see the following dialog box: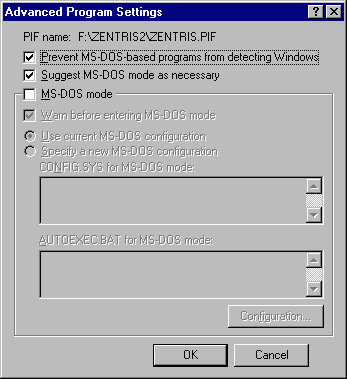 Turn on Prevent MS-DOS-based programs from detecting Windows and choose OK, and OK from the Properties dialog box. Zentris for DOS will now run normally in Windows 95.
Last Reviewed
This article was last reviewed on 08 Oct 2000.
For Additional Help
If you have a problem that you cannot resolve through our Support section, please write to Zensoft Customer Support.
Important Note: If you write to us because your issue is not listed on our web site, that means your problem is not a common one. Therefore, we need as much detail as you can give us. Be as thorough as possible in describing the problem so that we are able to help you as quickly as possible.