How do I place initial balls?
Answer
Click the Balls item on the menu bar. You can then click and drag colored balls, Zaxxoids, and bombs from the menu panel on to cells in the playing field. You can also move previously placed balls by clicking and dragging them. You can also drop one ball on to another to replace it. You can delete balls by dragging them to the far left or right edge of the screen.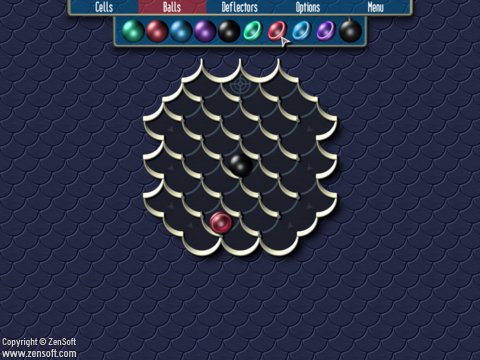 Balls placed in cells will begin rolling at the start of the level unless they are locked or are blocked by a locked ball. To lock a ball, right-click on it.
You are not required to place balls or Zaxxoids within a cell. Balls or Zaxxoids placed outside of a cell will remain stationary. These balls/Zaxxoids cannot be destroyed by bombs, but can be eliminated if other balls or Zaxxoids of the same color can be placed in line with them.
Last Reviewed
This article was last reviewed on 25 Aug 2004.
For Additional Help
If you have a problem that you cannot resolve through our Support section, please write to Zensoft Customer Support.
Important Note: If you write to us because your issue is not listed on our web site, that means your problem is not a common one. Therefore, we need as much detail as you can give us. Be as thorough as possible in describing the problem so that we are able to help you as quickly as possible.