The installation program gives me error messages.
Cause
Zentris for DOS requires you to enter a destination directory for your copy of Zentris, as follows: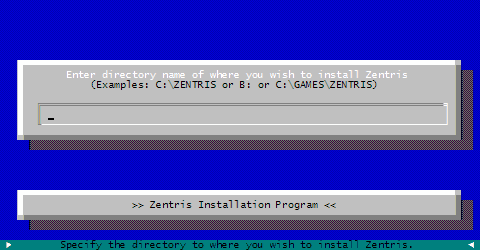 However, if you try to enter a directory that does not exist, the program can only create one new directory, not multiple nested directories.
For example, if you enter C:\GAMES\ZENTRIS, you must already have an existing directory called C:\GAMES or the installation will fail.
Workaround
The simplest solution is to enter a top-level directory name. For example, entering C:\ZENTRIS will always succeed, as follows: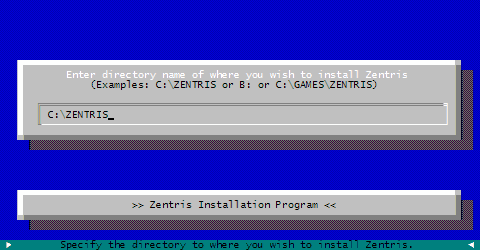 Last Reviewed
This article was last reviewed on 30 Apr 2000.
For Additional Help
If you have a problem that you cannot resolve through our Support section, please write to Zensoft Customer Support.
Important Note: If you write to us because your issue is not listed on our web site, that means your problem is not a common one. Therefore, we need as much detail as you can give us. Be as thorough as possible in describing the problem so that we are able to help you as quickly as possible.