How do I play music during the game?
Answer
Rather than including music with Zentris 3000 that you'll only eventually get tired of anyway, we've chosen to allow you to play any of your own music that you want. You must have a supported Jukebox (iTunes or Windows Media Player) installed. When you select Music Options from the main menu, you will be taken to a screen where you can select an installed Jukebox.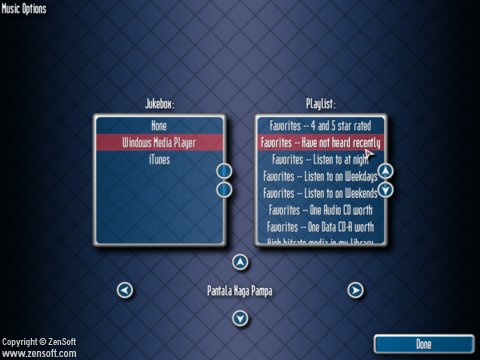 After selecting a Jukebox, you will see a list of playlists. Select the one you wish to play. Use the left and right arrows to browse songs. Use the up and down arrows to increase and decrease the volume.
See the help files for iTunes or Windows Media Player for instructions on creating a playlist if you need assistance.
Last Reviewed
This article was last reviewed on 9 Jul 2005.
For Additional Help
If you have a problem that you cannot resolve through our Support section, please write to Zensoft Customer Support.
Important Note: If you write to us because your issue is not listed on our web site, that means your problem is not a common one. Therefore, we need as much detail as you can give us. Be as thorough as possible in describing the problem so that we are able to help you as quickly as possible.