I have installed Super Zentris but cannot figure out how to run it.
Resolution
You need to locate the file sz.exe.
Search your hard drive for this file. To do this, click on your Start menu, then choose Find and then Files or Folders.... Type sz.exe, and tell it to look in My Computer (this is the first choice in the drop-down list). Then click Find Now, as follows: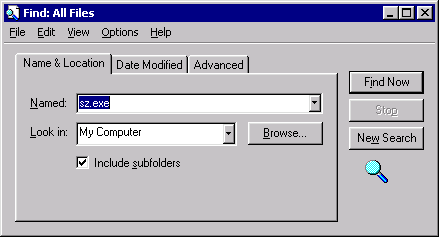 Wait while it searches your computer for the file.
Once the file is found, click-and-drag the file directly onto your desktop and you will have created a shortcut to run the game easily. Just double-click on the shortcut and the game will begin.
If Find Files doesn't locate the file, that means you haven't yet installed the game. Run your installation program again, and enter a simple destination path such as C:\SZ to install, then repeat the above procedure after the installation is complete.
Last Reviewed
This article was last reviewed on 30 Apr 2000.
For Additional Help
If you have a problem that you cannot resolve through our Support section, please write to Zensoft Customer Support.
Important Note: If you write to us because your issue is not listed on our web site, that means your problem is not a common one. Therefore, we need as much detail as you can give us. Be as thorough as possible in describing the problem so that we are able to help you as quickly as possible.